All new performances and appearances by
The Kids in the Hall
The State David Cross & Bob Odenkirk The Tenderloins The Black Version Upright Citizens Brigade RiffTrax Triumph the Insult Comic Dog
Alan Arkin Fred Armisen Aunty Donna Maria Bamford Todd Barry Doug Benson Paget Brewster Dana Carvey Margaret Cho Peaches Christ Jonathan Coulton Rachel Dratch Chris Elliott Noel Fielding Jo Firestone Bill Frisell Ron Funches Janeane Garofalo Chris Gethard Bobcat Goldthwait Emily V Gordon Dana Gould Elliott Gould Jean Grae Christopher Guest Jon Hamm John Michael Higgins Dave Hill Michael Hitchcock John Hodgman The Improvised Shakespeare Co. Bill Irwin Eddie Izzard Kasper Hauser Joel Kim Booster The Latino Comedy Project Jane Lynch Tim Meadows The Milk Carton Kids Rhett Miller Eugene Mirman Arden Myrin Aparna Nancherla Kumail Nanjiani Laraine Newman Oscar Nuñez Patton Oswalt Cheri Oteri Jimmy Pardo Parv & Pudi Paul and Storm Kevin Pollak Greg Proops Jonah Ray Andrea Savage Eliza Skinner The Slipnutz Cole Stratton Theme Park Jesse Thorn Paul F. Tompkins Aisha Tyler Uptown Showdown Janet Varney Reggie Watts White Women "Weird Al" Yankovic Sasheer Zamata Alan Zweibel plus surprise guests!
Lineup subject to change
SF Sketchfest is pleased to announce Festpocalypse!, the virtual comedy event of the year. Join us for an epic smorgasbord of all-star SF Sketchfest alumni coming together for one show to celebrate 20 years of the festival. With comedy sketches, improvised scenes, game shows, ridiculous debates, musical performances and chats with entertainment icons, the show features all NEW performances and appearances from some of the most beloved names in comedy, film and television.
This virtual event will help raise funds to keep SF Sketchfest afloat during the ongoing Covid-19 shutdown. As a fiercely independent and locally grown small business, the inability to present live shows for much of 2020 and into 2021 means that we must generate revenue to be able to hold out and come back strong with a live in-person 20th festival. You can help support by buying a ticket below!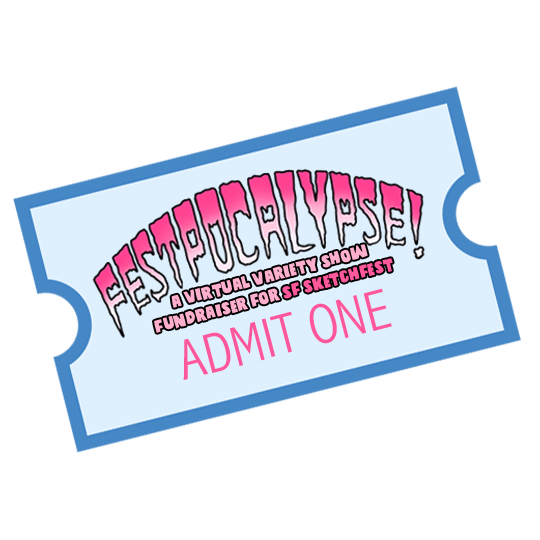 Show Only – $20 $10!
Digital access to the virtual comedy event of the year! Watch a replay of the event. Rental expires 48 hours after first pressing the "play" button.
Friend – $100
Digital access to the show, plus swag sent to your door! Wear your SF Sketchfest pin with pride while you hang a high-quality print of the Festpocalypse! Lineup Poster on your wall. Poster illustrated by Ryan Berkley.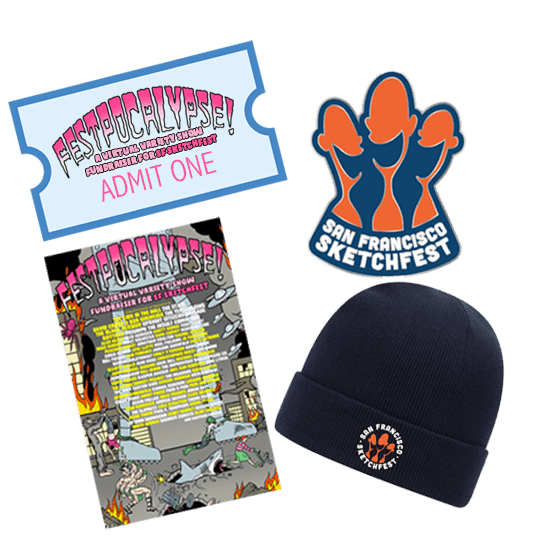 Collector – $200
Digital access to the show, pin, lineup poster, and a beanie! Laugh your head off in style at the next in-person SF Sketchfest.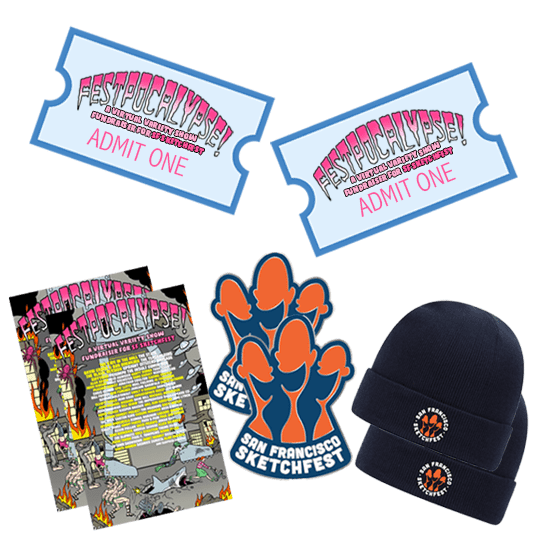 Collector (Dual) – $350
Show access for you plus a guest, 2 pins, 2 lineup posters, and 2 beanies!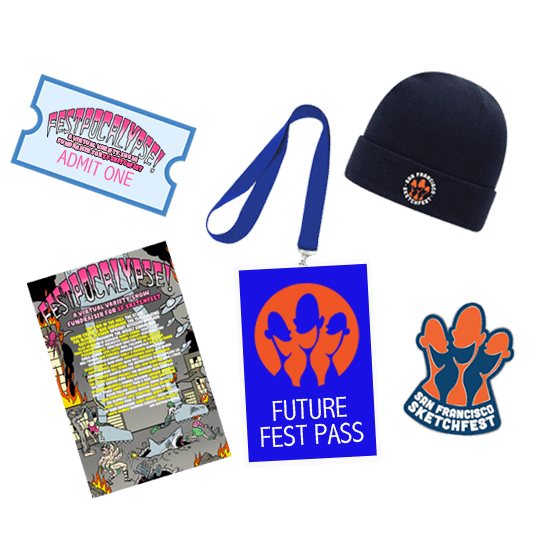 Superfan – $3000
Show access, 1 pin, 1 poster, 1 beanie, and for the first time ever—a pass to the next in-person SF Sketchfest!
That's right—when it's safe to launch our next in-person festival, you'll already have access to every show in the festival. Very limited quantities available!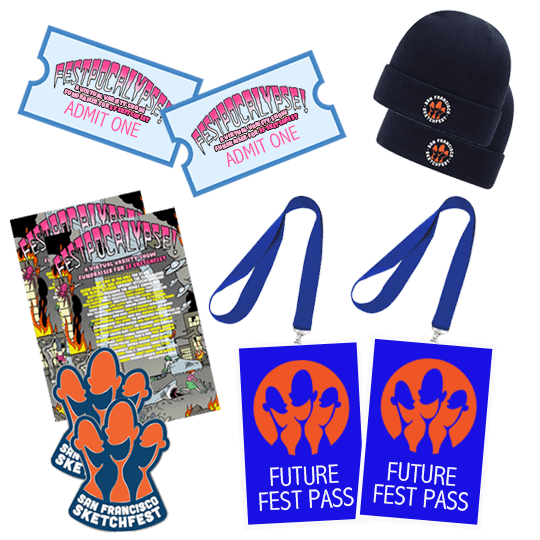 Superfan (Dual) – $5000
Show access for 2, 2 pins, 2 posters, 2 beanies, and 2 passes to the next in-person SF Sketchfest!
Very limited quantities available!
Please note, all physical items will ship in February 2021. Sorry, we can only ship to the United States. Shipping included in ticket price. All tickets subject to box office service fee. Show lineup is subject to change.
Frequently Asked Questions
How does this all work?
Purchase a ticket at the level of your choosing, and you'll receive a confirmation email with further instructions on how to view the virtual event.
How long is the show?
The runtime is 3 hours and 33 minutes. We're cramming a three-week festival into a single variety show, so expect to get cozy on your couch for awhile!
Can I watch on my TV?
Yes! We recommend this guide which will walk you through streaming to your TV from your phone or computer. You must be logged in to your ticketing account to view the stream.
Is there closed captioning?
Yes! Closed captioning is available for this show. Click the "CC" button on the video player to enable.
I live outside of the US. Can I still watch the show?
Yes! There are no geo-restrictions on this stream. You can watch from anywhere.
I live outside of the US. Can you ship swag to me?
Unfortunately, we can only ship physical items within the United States. Sorry, international friends!
I bought a Dual level ticket—where's my second ticket?
Please email boxoffice@sfsketchfest.com if you have not received your second ticket.
Can I buy a ticket for somebody else?
Yes! To order as a gift, please call the box office at 415-552-5580 between the hours of 10 AM and 4PM Pacific, Monday through Friday.
Can I buy a pin/poster/beanie separately?
Sorry, physical goods are only available as part of a ticket purchase.
When will my pin/poster/beanie ship?
All physical items will ship 4-6 weeks from purchase. If you need to change your shipping address, email us at boxoffice@sfsketchfest.com.
How does the Future Festival Pass work?
We look forward to putting on the next in-person SF Sketchfest when it's safe to return to live events. We're not sure when that will be yet, but you can help support our return by purchasing at the Superfan level.
The Superfan level includes a pass for the next live, in-person SF Sketchfest (dates TBD). This pass will grant the bearer access to as many shows as they can attend during the course of that next festival. Some restrictions apply—the pass is non-transferable, and must be worn by the bearer at all times. Shows will need to be selected in advance. When we know the dates of the next in-person festival, Superfan ticket buyers will be contacted with further details.
Still have questions? Email us at boxoffice@sfsketchfest.com or find us on social media @sfsketchfest
Festpocalypse! artwork by Ryan Berkley